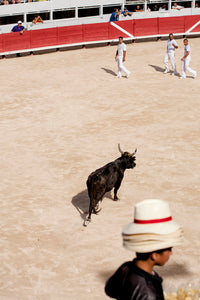 In the 2000 year old amphitheater, the dance between raseteurs and bulls goes on in the hot summer afternoons. Dusts in the air, dust in your mouth. The crowds shouts " très jolie !" when the raseteurs managed to escape by a hair of the bull's horn. The goal is to snatch the ribbon tied between the bull's horn. Bulls unharmed. Men goes home with a tall tale to tell.
For the adventurous hearts, this image is part of the Journeys Collection which exudes the pleasure of exploring a new place, a glimpse of the ­unfamiliar and a love for shared humanity. 
Limited-edition of 150 prints in each sizes. Each photograph is beautifully printed and signed on museum-grade, heavyweight, archival paper and ink. A one-inch boarder surrounds the image.
Please contact me for custom sizes.
Once a print order is placed, please allow 5 days for production. 
Estimated shipping times are as follow, although some delay is expected during this time.
Free Savannah delivery.
Free USA shipping -  Via USPS - 3 working days.
International - Via UPS Worldwide-  2-7 working days depending destination.